GEOM is a collection of objects and small furniture designed by Sára Kele and developed by Marion Duzan and Laurence Saugé. The forms, inspired by the Bauhaus movement and Suprematism, express confidence, stability and tranquility. The objects' unity lies in their representation of an incomplete circle, creating an opening to new possibilities. The clean, timeless lines bring singular materials to the forefront, continuing the tradition of the Boutures objects: two new innovative and durable materials - made of shell fragments and linen fibers - join the collection.
This project is a winner of WORTH II Partnership Projects, a competition that aims to inspire innovation through creative connections across Europe. Theobjective of this program is to develop innovative, design-driven products that contribute to global challenges, accelerating green and digital transitions and related transformations in the European economy, industry and society.
Want to put it in your project? Get in touch. The GEOM objects are waiting for you.

Designer: Sára Kele
Client: Boutures d'objets
Eco-consultant: Marion Duzan
• • •
GEOM VASE
Designed to combine aesthetics and functionality, thisvase is composed of two elements: a cut glass bottle, which slides and fades into a block of terrazzo shells with contrasting surfaces. This object highlights the know-how of the French company Malàkio, which imagines materials made of revalued shells (oysters, mussels, scallops), a mineral binder and plant-based pigments. The low-tech manufacturing process does not require energy consumption and gives a unique quality to the material.
Manufactured in France
Ø20cm - thickness 8cm - weight 3,5kg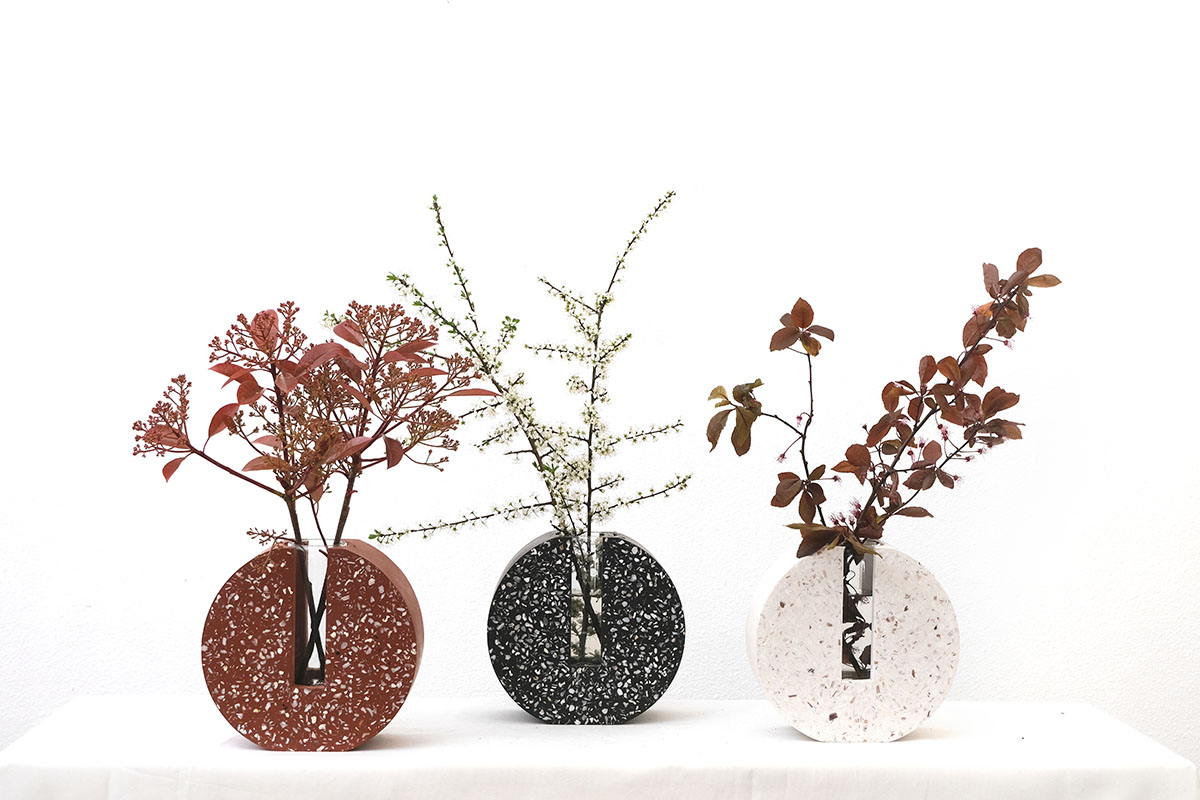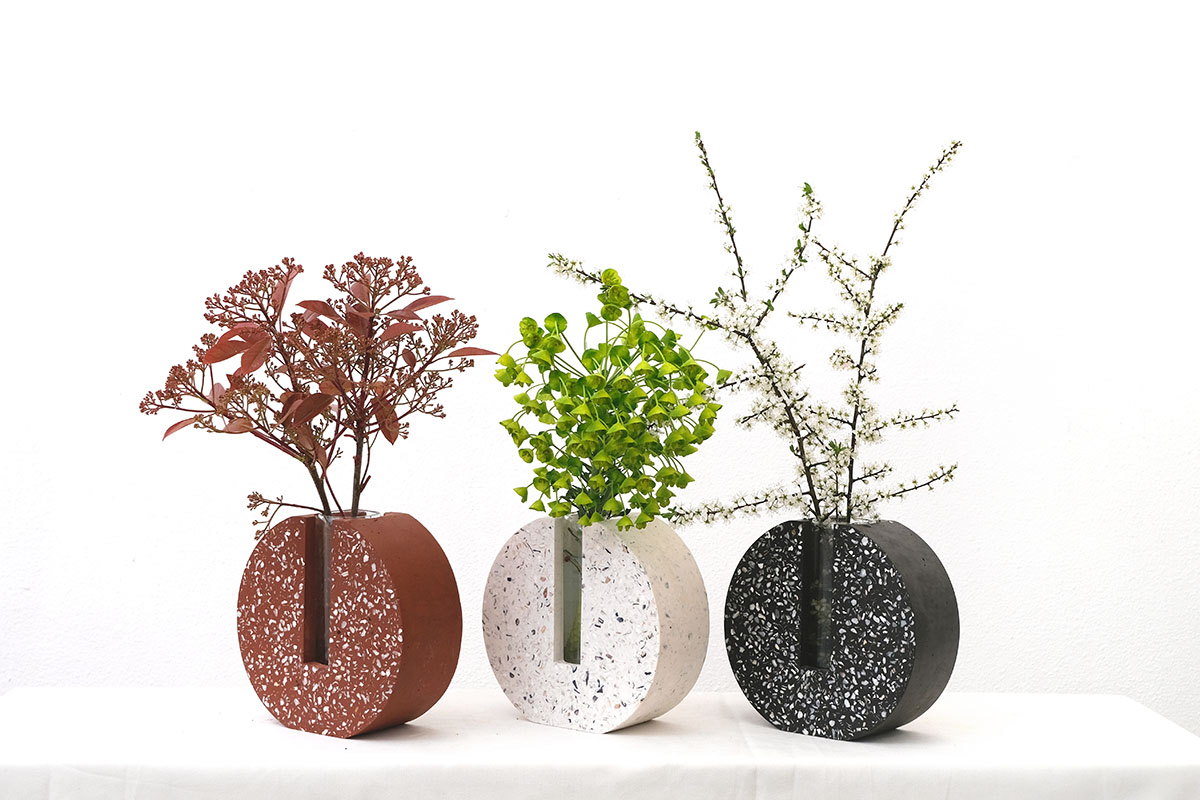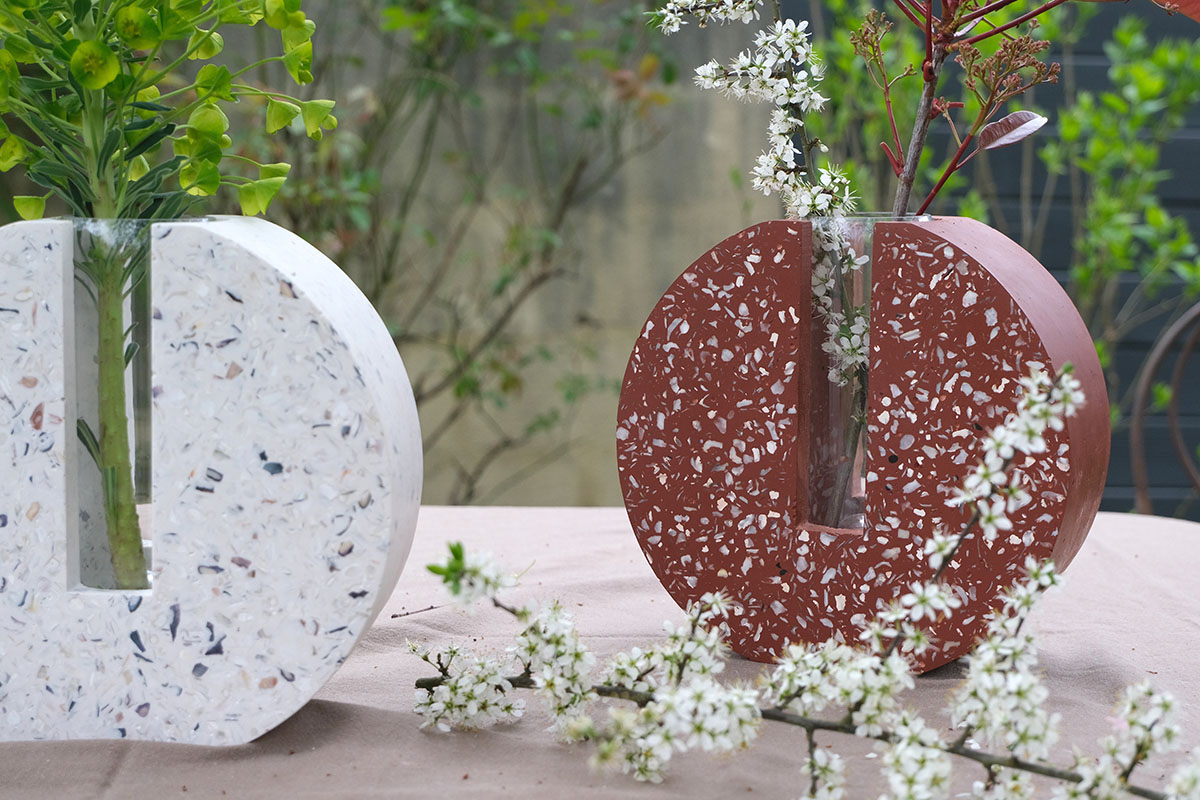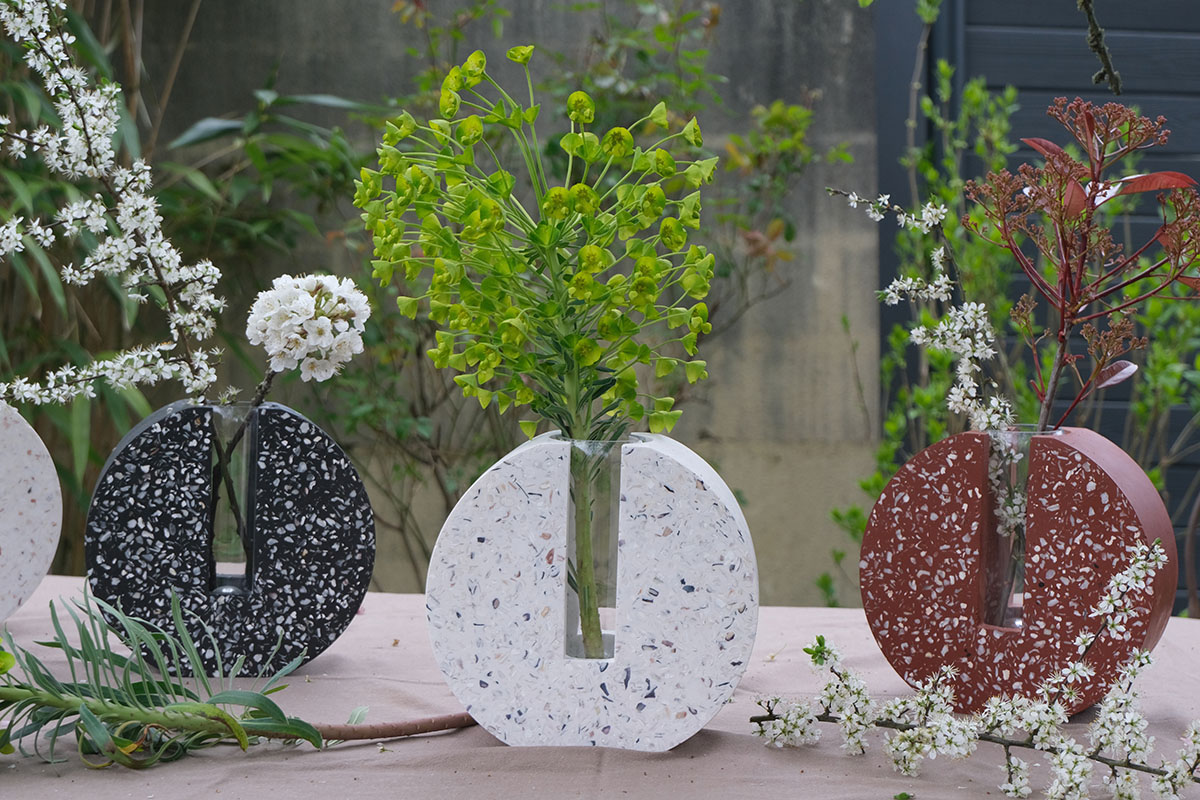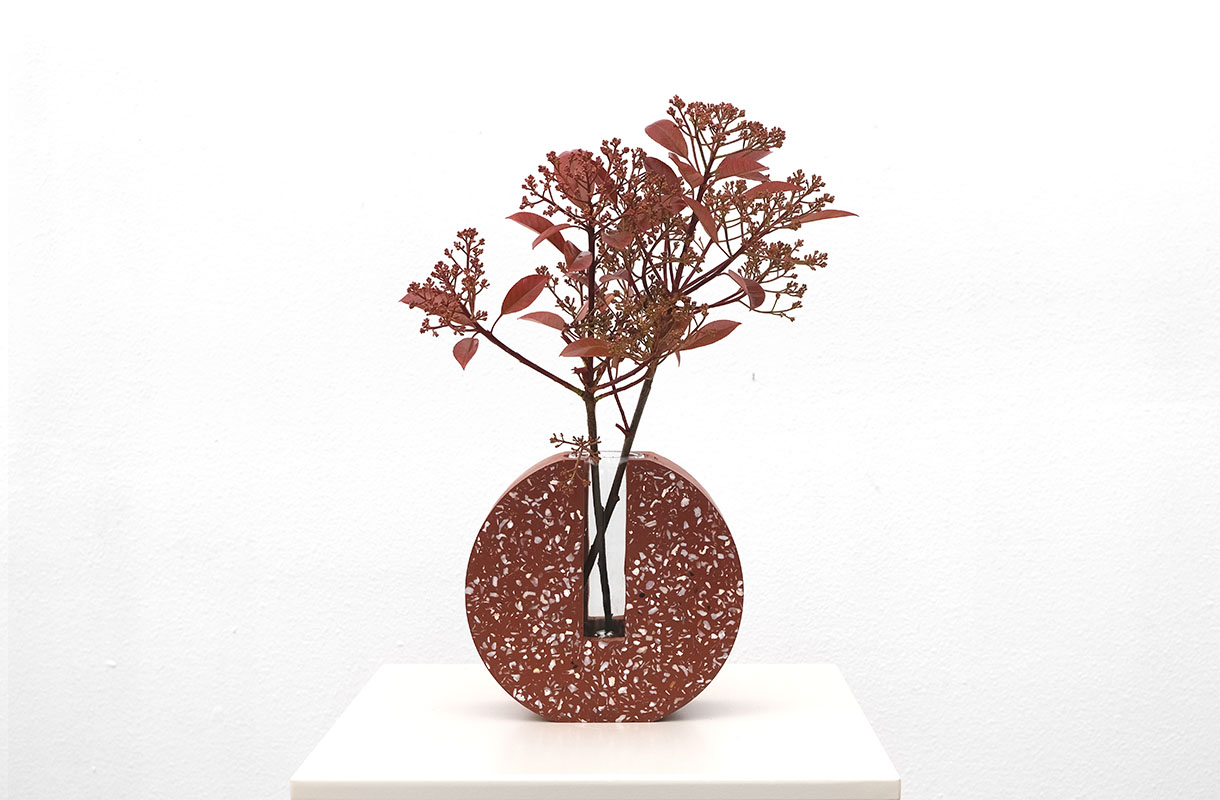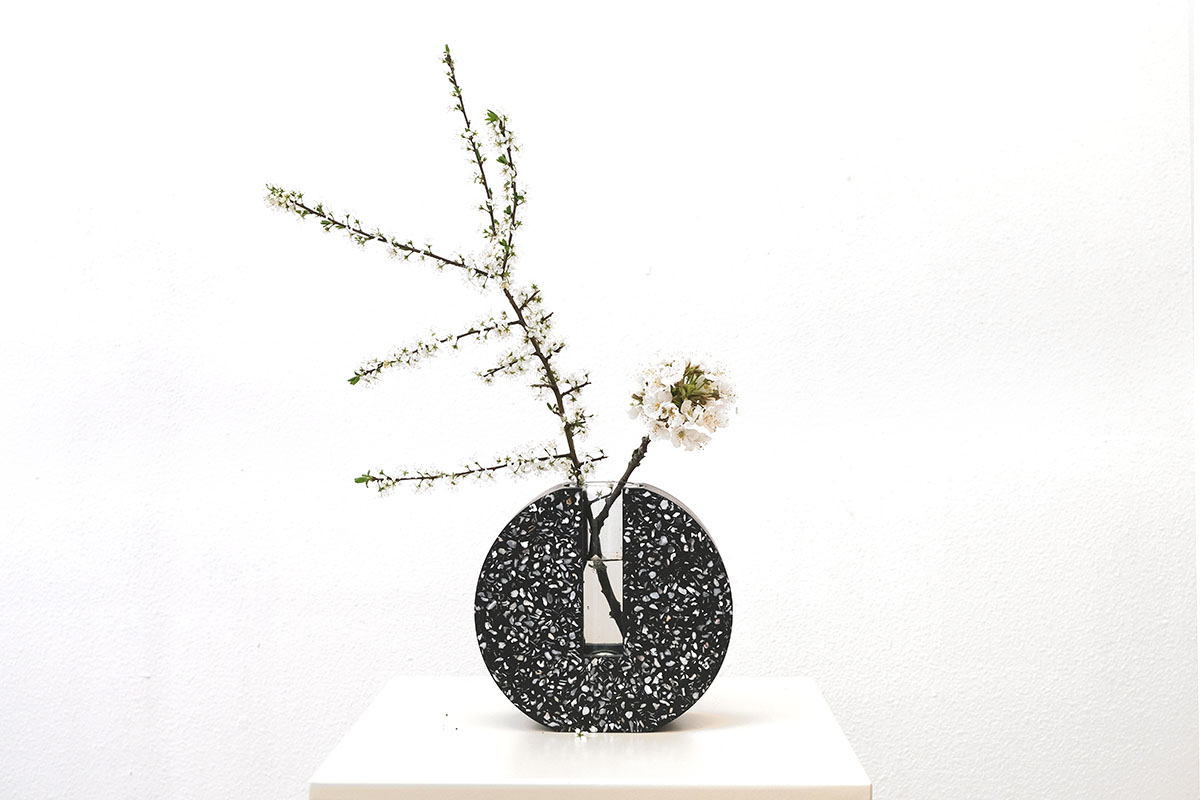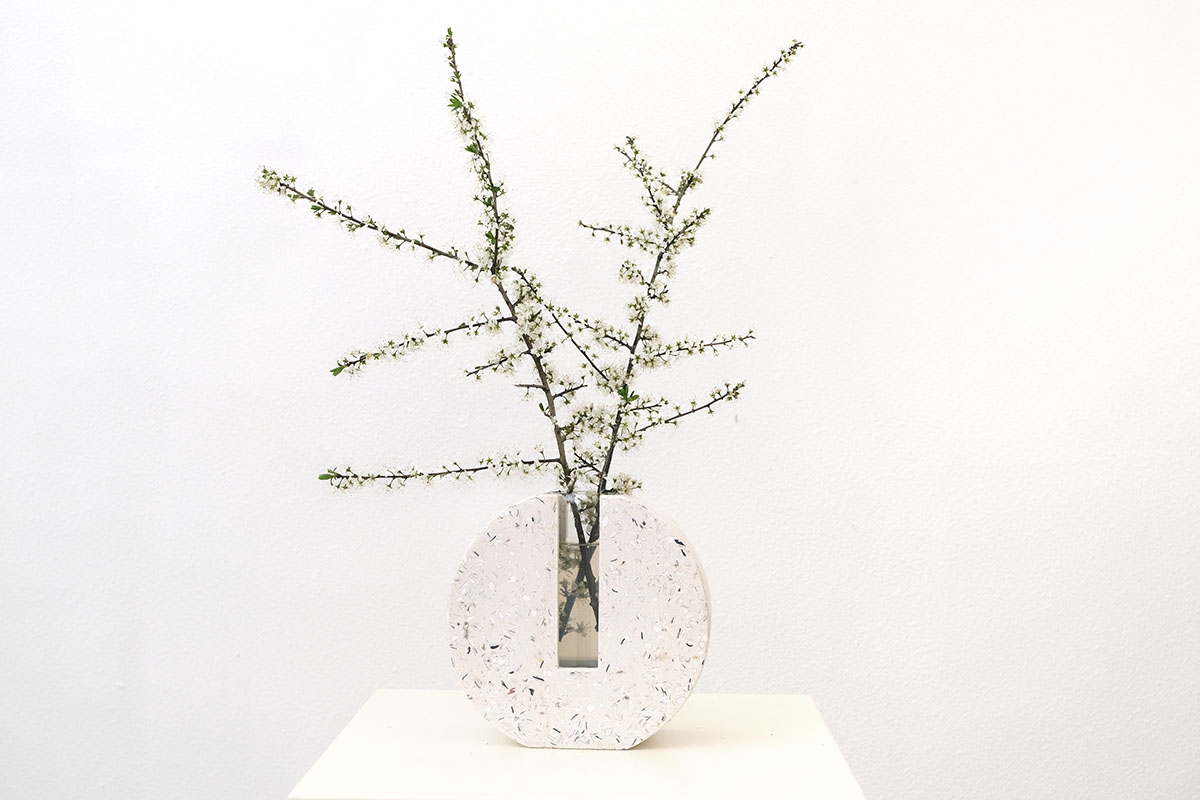 • • •
GEOM TABLES
Inspired by László Moholy Nagy and Kazimir Malevitch, this unfinished circle with subtly broken lines is based on the European heritage of Bauhaus and Suprematism. Elegant, rigid and light with an even and smooth surface, its grains reveal its natural essence: a biosourced material made of flax and biopolymer with a cork core. This is the first piece of furniture made with Kairlin®, produced in Normandy, from locally grown linen with a reasoned use of water and fertilizer. Kairlin® was developed by Kaïros for the skipper Roland Jourdain, who was looking for a biosourced material - light and resistant - for the fitting out of his racing catamaran We-Explore, participant in the Route du Rhum 2022.
Manufactured in France
Small design : Ø60cm, height 38cm
Large design : Ø78cm, height 38cm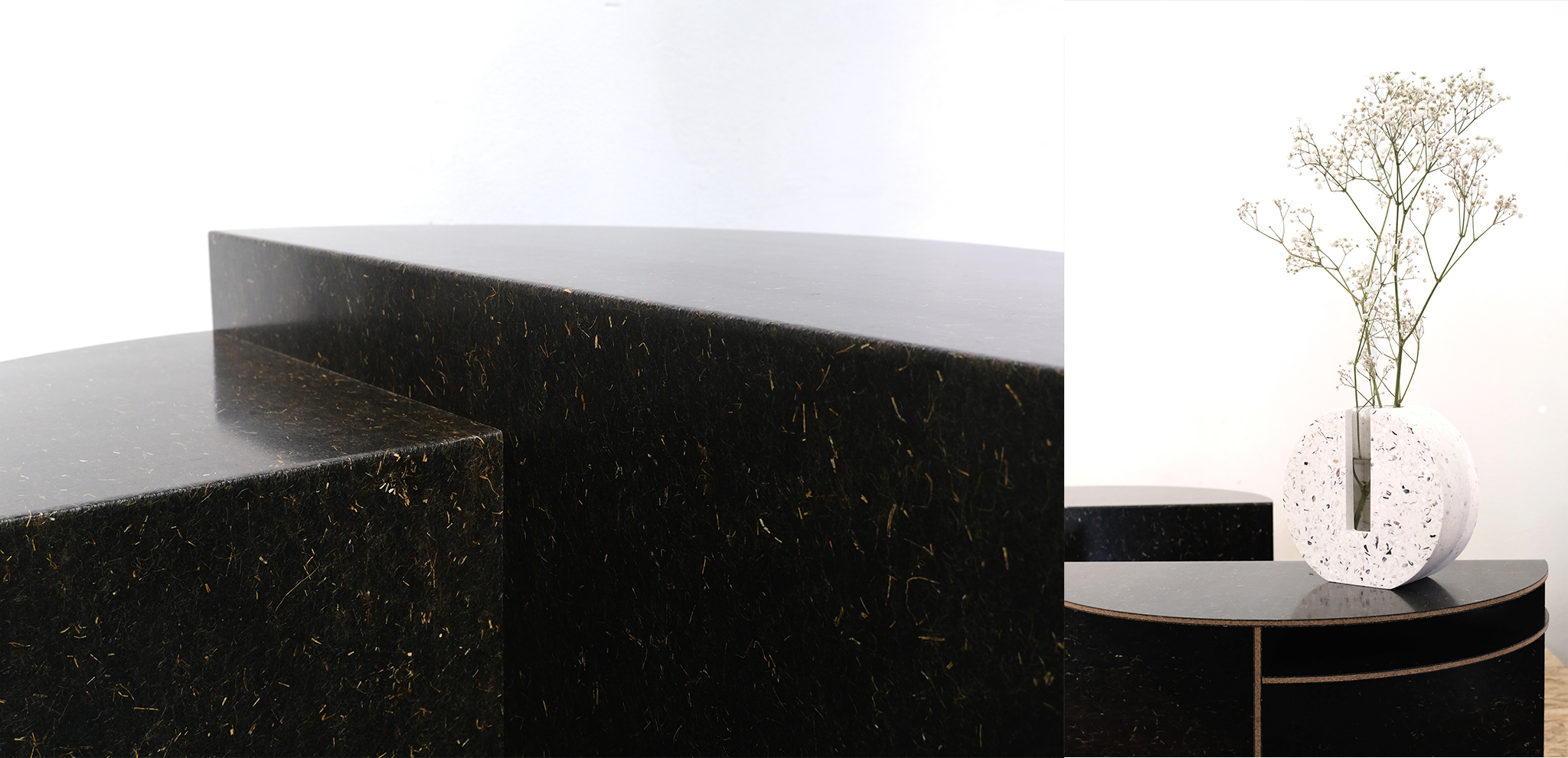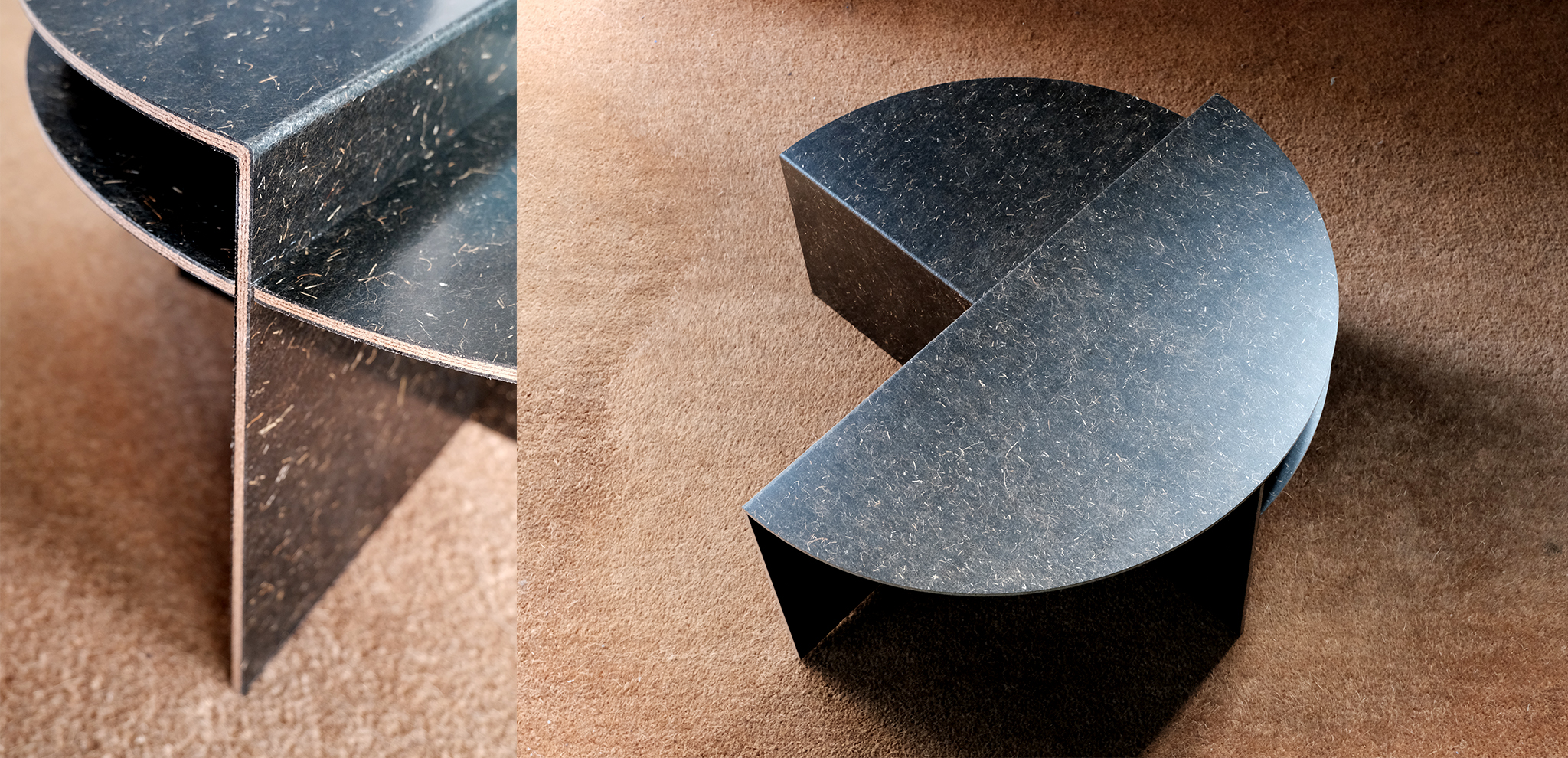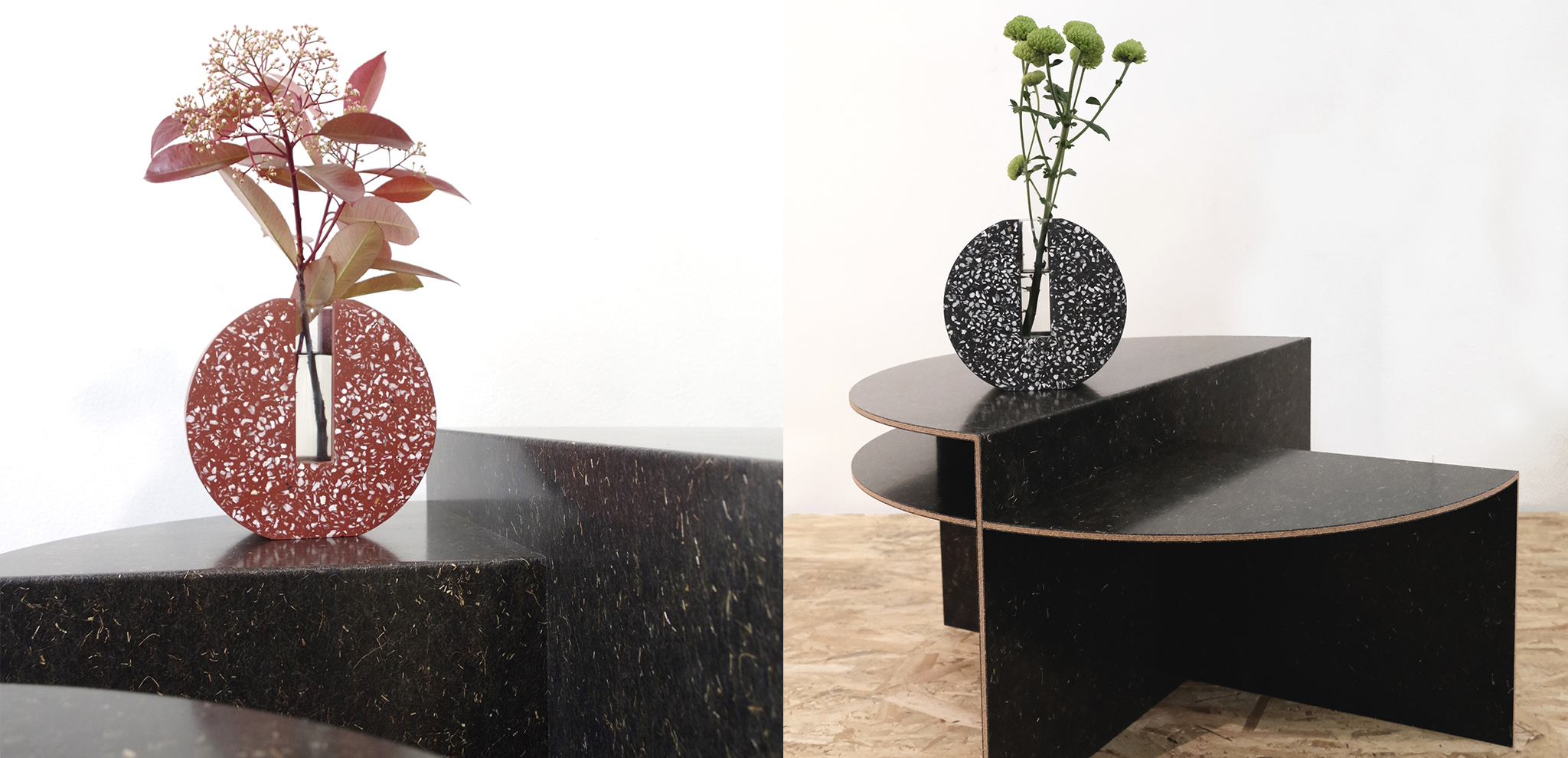 • • •
The STORY
GEOM stem from the encounter of three women, Sára Kele, Marion Duzan and Laurence Saugé, united by a common passion for ecodesign and the creation of objects from sustainable and innovative materials. "We aim to contribute to the development of material innovations by demonstrating that sustainable materials can be within reach and suitable for everyday objects." Our purpose was to explore natural, biosourced materials which combine durability with a limited environmental impact over the products' life cycle."
Sára Kele – Designer (Hungary) A talented, awarded designer, Sára brings her sense of art and aesthetics together with experience in product ecodesign. She creates exciting, yet simple and timeless furnitures and interiors - always keeping sustainability in focus. Whenever possible, she intertwines traditional craftsmanship with state-of-the-art, innovative techniques.
Marion Duzan – Sustainability consultancy & ecodesign (France) Marion coordinated the collection development, building on 10 years' experience in the design industry and ecodesign expertise. Convinced that sustainable development is a lever for innovation, she supports brands in creating (lasting, beautiful & functional) products in a more sustainable way and collaborates with international designers.
Laurence Saugé, founder of Boutures d'Objets (France) Boutures d'Objets is a Design house specialized in designing objects from innovative, recycled or bio-based materials. Laurence collaborates with designers on the Boutures d'Objets product lines and works for major luxury brands for the research and development of creative projects.